Decision Integrity (DIL) is a research and coaching enterprise working on holistic approaches that benefit sustainable systems, projects, communities, organisations and societies with special emphasis on transformative resilience.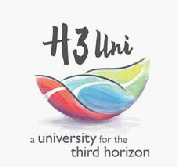 A new kind of University encouraging 'barefoot' learning for action
The focus of H3Uni is the education of individuals and groups in the core capabilities needed to create multiple varieties of one-planet living able to rebalance humanity, nature and planetary future.
Society has been built using a form of knowledge that has disconnected it with the direct and indirect impacts of its actions on planet earth - its natural environment. The design and implementation of our socio-economic systems make it increasingly difficult for humanity to be supported by the planet as it has in the past We have not been taught how to anticipate systemic impacts in our decisions and socio-economic designs.
The issue is compounded further – the change rate, driven by human actions, has become so rapid that education is failing to redesign itself fast enough. This is caused in part by its inability to envision the needed changes.
1. Navigate in complex, uncertain times whilst maintaining the essential services that provide us all with security
2. Work collectively to transform existing systems so that they will meet our changing collective needs
3. Think critically, systemically and creatively in flexible combination
4. Evolve our common capacities, tools and frameworks for developing collective intelligence
5. Gain benefits from diversity (age, values, perspectives, experience, culture, needs)
6. Identify the systemic risks and opportunities in any situation
VISIT www.h3uni.org TO EXPLORE COLLABORATIVE CO-CREATIVE METHODS DESIGNED FOR NAVIGATING OUR WORLD OF COMPLEXITY AND UNCERTAINTY BY LEARNING TO: